Real Moustache Cups for Men with Real Moustaches
Harry's Best Moustache Cup
A perfect accoutrement for the mustachioed minions
Here's a picture of Yours Truly using one of Harry's Moustache Cups. You can see how the 'stache rests nicely on the dam keeping it clean and dry. It's late in the day and I'm using #26 wax. It was about 6PM and as you can see it had not begun to droop.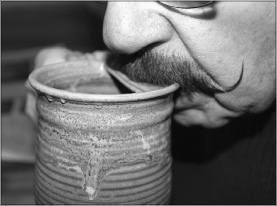 To order Moustache Wax, Combs or Wax Heaters Please Visit Harry's Moustache Wax at: WWW.MOUSTACHEWAX.CO

This style of cup is available in four colors as well as left handed and right handed styles. The attractive colors are Medium Brown, Cobalt Blue, Stone Blue and Mocha. They hold about 12 ounces and are lead free, dishwasher and microwave safe. The Left Hand cup is (of course) on the left.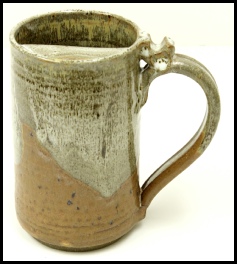 When searching for a Moustache Mug or Cup whether on ebay or the web, you're generally confronted not with a real Moustache Cup or Mug, but novelty mugs with pictures of moustaches on them. For those of us with real moustaches who would like to keep our 'staches clean and dry, moustache mugs or cups with pictures of moustaches printed on them are a joke. A REAL Moustache Mug or Cup is designed with a dam across the top of the mug upon which your moustache rests. There is a hole in the dam that permits the liquid in the vessel to be sipped while your 'stach remains clean and dry on the dam (see the picture showing an example).We offer our cups in four different colors as well as
Harry's Moustache Beer Mug
Holds 24 ounces . Practical and attractive! RH and LH available
right and left hand styles. In addition, we have a new Beer Moustache Mug. This mug holds a full 24 ounces ( will hold ½ liter bottles as well as 650 ml bottles of beer) and will keep that 'stache high and dry! Lots to choose from and I'm sure that you'll find something quite appealing. They're useful and practical and really attractive. Our Mustache Cups and Mugs are handmade for us here in the US by two small independent potteries. Because each one is individually thrown, they are not exactly alike but are certainly very similar. Making the cups and mugs is a really time consuming affair and requires many processes which include, throwing the cup, then trimming and applying handles and the 'stache dam, then the "bisque" firing at a temperature of about 1700 degrees followed by glazing, drying and a final slow firing at 2300 degrees. The whole process takes almost a month and because of that, I have a limited number of cups and mugs to sell.
Our Moustache Cups (and mugs as well) are oven and microwave safe, dishwasher safe, and lead free. I think they're really attractive and practical.
The cups hold approximately 12 ounces and yes, they really do keep your moustache dry. These are really cups and unlike beer mugs which are unsuitable for coffee, they're not ungainly and feel comfortable in your hand. I had these made because the only moustache cups generally available are antique ones which are usually quite delicate and unsuitable for coffee or soda. The only other modern ones I've seen are really mug like and don't seem quite right for coffee.
Our Moustache Beer Mugs will hold about 24 ounces, a really practical size for beer drinking as well as soft drinks with ice. The moustache dam keeps liquid from messing up your 'stache and with soft drinks, keeps the ice away from banging against your lip. Comfortable to use and attractive! The Moustache Beer Mug is a Medium Brown color and available in both right and left hand style.